Article written by Liezl Kroon (Humanitas Counselling Student)
Through the course of our lives we will all experience the need to talk to someone at some point.  Then we have to make the decision of whether talking to a friend or loved one will suffice or to seek professional help.
Admitting to yourself that you need professional help can be quite daunting.  After you have finally plucked up the courage to make the appointment, you might find yourself wondering about – even researching – the person that is about to hear your life story.  Can you really trust them?  How much should you say?  Are they really all a little crazy? – I mean they chose a profession where they listen to people's problems all day!!  Will he / she be analysing me the whole time?
With all these frequently asked questions in mind, I would like to try and address a few of these from the counsellor's point of view (or then, from their couch if you will).
First of all it is important that you know the person that will be sitting opposite you chose this profession because they have a heart for it.  So the moment you walk through our door know that we want to listen to you.  We want to hear your story – no matter how awful you might think it is.  And even if it is quite awful then that is also ok – we are trained to work and deal with a wide variety of situations.  I feel it is also important for potential clients to know why counsellors ask so many questions and encourage you to give us as much information as you feel comfortable with.  Besides the fact that we need to get the full picture in order to see where we might be able to help, we also want to try and understand your journey.  So for us it is not only about what your journey looks like but also the impact it had on you.  Even if I as a counsellor have experienced similar things to you we will most likely find vast differences should we compare the impact it had on the both of us.
We all worry about things like confidentiality – especially when you reveal all that is you in front of a complete stranger.  Please rest assured that we as counsellors are bound by ethical codes to strictly adhere to client – counsellor confidentiality.  The only exception to this is when the counsellor feels that you might be a threat towards yourself or others or when there is disclosure of abuse of a minor, a disabled person or an elderly person.
What is the deal with counsellors writing stuff down whilst you are talking?  For me the answer is really quite simple: I don't trust my memory!  The intent is really not to make a client uncomfortable and if you do feel just that then please bring that to your counsellor's attention.  It is important that you as the client feel comfortable and know that you are in a safe space.
Are all therapists a little crazy?  Well, I guess it depends on who you ask!  Remember that counsellors are also just human beings which means that we also have things to deal with in our personal lives and by no means do we "know it all" or have all the answers.  I even want to go as far as to say that it might just be these things we encounter and deal with in our own lives which sparks that passion in us to help and be there for others.
I think that sadly our society still has this idea that it is only acceptable to seek professional help if there is something "seriously" wrong with you.  Let's just look at this word for a second.  Serious.  Possible synonyms are important, significant, urgent and major.  Who am I to decide what the degree of a problem should be before it can be deemed important?  A significant problem in one person's life can be a mere obstacle for another.  Because we are different.  Therefore we are not allowed to decide the grade of someone else's suffering!
I also find it sad that the problem has to necessarily be connected to the person's being.  What if we rephrase it – "something wrong in your life" rather than "wrong with you".
I sincerely hope that; should you ever need some guidance in your life, you will put yourself and your needs first and seek the help of a counsellor.
And whether it's just a few sessions or a whole journey, it might just turn out to be the first step towards an incredible journey of healing.
"Helping one person might not change the whole world, but it could change the world for one person" Unknown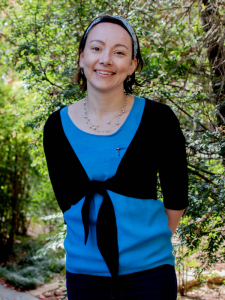 Liezl Kroon
"I remember what my dreams and ideas for my future looked like as a little girl.  The exact details are a little vague but I clearly remember that it always involved helping people…and dogs.  There were always dogs involved in some way or another.
But the journey that lay ahead…wow.
I completed my honours degree in Psychology in 2005 at Tuks and since I had a study loan to pay off I had to start looking for work immediately.  It was simply not possible for me to do volunteer work in order to gain some practical experience in the helping profession and needless to say, I was not accepted into the Masters program for Psychology.
During the 13 years that I worked for an engineering company (fulfilling various roles from HR-related to admin) I frequently looked into possible courses that could bring me closer to my dream of working in the field of psychology or counselling.  But it was as though the doors would just never really open for me.  As the years went by I decided to give up on my dream of being a therapist, but that decision was definitely only made with my head, so the passion of wanting to help in some way remained in my heart.  Luckily I came across the Humanitas course that Vita Nova presents and at the beginning of 2020 I decided to take the giant leap and resign in order to enrol.
Ek besef vandag dat die pad wat ek tot nou toe gestap het, tesame met die drome van daardie klein dogtertjie beide 'n baie groot rol speel in my passie om betrokke te raak by mense en te help waar moontlik.  In my 37 jaar het ek intense trauma en verliese beleef.  Maar ek kan ook sê dat ek met behulp van terapie meeste van hierdie dinge kon integreer op so manier dat dit altyd deel sal wees van my verhaal maar sonder om my menswees te definieër."
Liezl.kay7@gmail.com