Boundaries is a word that we see discussed a lot nowadays especially on social media. But what does it mean? Is it simply saying 'no' to everything you don't like?
 Let's delve a little bit into the topic…
A boundary is the rules and limits that you create within various relationships and contexts. These are a list of things that you either accept or don't, to help you create relationships where you feel respect and comfort.  To create boundaries, you will have to explore and know your values. Your values are the key guide to creating boundaries so it is imperative to know your core values before embarking on this journey.
Boundaries come in 6 main categories:
Physical (hugging/touching)
Intellectual (respect of your thoughts, ideas & respecting others similarly)
Emotional (guarding your emotional needs)
Sexual (having your needs met safely)
Material (protecting personal belongings)
Time (using your time wisely, not having it exploited)
After exploring your values and creating boundaries, you can explore this further by asking yourself who you struggle to set healthy boundaries with. Probe this further by asking why you have difficulty setting a boundary with this person?
Envision your life and what it would look like with boundaries. Think about how your friends, families and colleagues might respond to this, especially those who benefitted from you having minimal or no boundaries previously. Boundaries don't necessarily have to be communicated to those around you, but it is advisable because without communication, your boundaries will likely be violated, creating discomfort and possible resentment.
A common struggle people have is saying no, either because they do not know alternative options or because they fear the outcome of saying no. It's always good to express yourself clearly, concisely, and respectfully and saying "no" can be challenging at times.
Here are a few suggestions on how to communicate your stance clearly:
"I'm not comfortable with this."
This doesn't work for me."
"Unfortunately, I'm not available to assist you."
"Thank you for thinking of me, but I can't right now."
"Maybe next time."
These are a few suggestions, but you are welcome to add and implement those that work better for you. Remember that you are responsible for standing up for yourself and protecting your peace. If you find yourself saying less to keep the peace around you, ask yourself if you are sacrificing the peace in you too?
Remember that your boundaries can either be similar to someone else's or they can be unique. It is also important to remember that your boundaries can change over time, so it would be wise to re-visit your boundary list when necessary.
The Author: Fathima Pochee (Humanitas Intern)
Here is a little bit more about her: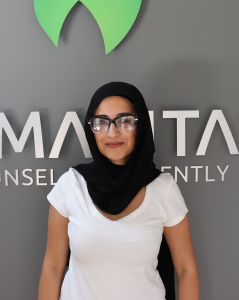 My name is Fathima and I would love to help you explore and work through your personal challenges, in a safe, supportive and confidential environment. Being a mother, my interests lie with relationships, women & mothers and children.
My interests further include, trauma, attachment, abuse, intimacy concerns and behavioural addictions
I am keen to assist my clients by using a person centred approach, believing that each one of us has the ability to solve our own difficulties. My aim is to help you identify and work through these difficulties at a pace you are comfortable with, preserving your autonomy and respecting your boundaries (if you think you don't have any, let's work on that).