THABELO MAMBA – HUMANITAS COUNSELLING STUDENT
Thabelo volunteers her time by offering free online counselling via Zoom.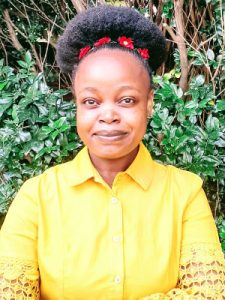 The story of my life; a journey through which I learned that storms are all around us. However, the beauty about storms of life is that they are there for a period and then they pass. I also learned that at times they come with thunder and lightning. In my experience I learned the patience to wait until they pass by, until the thunder sounds no more and until the clouds roll forever in the sky.  Moreover, I learned to hold fast and stand in a hallow of someone's space; I was kept safe until the storm passed by. And because I was safe, I completed my BA Psych, BA Honours degree in Psychology. When I started my journey as psychology student, I did not know what to expect, but then I was madly in love because I could see myself in the future already.  Let me tell you that the future I am telling you about was never a reality until today. In between my time as a student was a long journey I cannot even describe today; yet it was still filled with life so beautiful and worth living for. In between was a life that was filled with experiences that shaped and made me the person I am today. A mother and wife, who is passionate about working with people.
It has been my dream that every day of my life I reach out to people, more especially youth and the elderly. The reality being that I can relate to their experiences; sometimes the people around us do not understand our journey. They do not need to; it is not for them and that is alright.
I am currently a student at Vita Nova Counselling Centre, training to become a Specialist Wellness Counsellor.  This experience has equipped me in counselling a child client (child therapy), adult survivors of childhood sexual abuse, crisis management counselling, trauma counselling, grief counselling, and group counselling. I have learned and grew to counsel confidently with the skills, knowledge and practices I have experienced. I am living my passion through this journey with Vita Nova and look forward to the experience to further practice my skills.  I would like to specifically work with:
Parents having challenges with parenting.
Adult survivors of sexual abuse
Loss, grief and bereavement counselling
Individual counselling
Trauma counselling
I look forward to hearing your story, to be in that space and hold you fast, until the storm you have brought in passes by, and the clouds roll forever in the sky. You do not have to struggle with a storm in silence, you can be un-silent. You can live well with a storm in your life, so long as you open to somebody about it.
"Mental Health is not a destination, but a process. It's about how you drive, not where you are going".
Noam ShPancer, PHD
How to book a session
Our Humanitas Counselling Students are ready and eager to connect, listen and talk with you. If you would like to book a free counselling session via Zoom – please have a look at the different people who are able to help.
To request a session with Thabelo, please fill in the form at the bottom of the free counselling page and select her name.