SIMPHIWE MODINANE – HUMANITAS COUNSELLING STUDENT
Simphiwe volunteers her time by offering free online counselling via Zoom.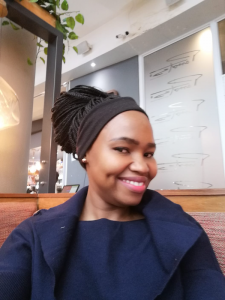 My journey has taught me that although we might come in different colours, speak different languages and come from different walks of life,  one thing remains, we are all human. We are happy when complimented, smile at the smallest things and cry when we are hurt. All those emotions inside make us who we are.
My passion with people started at an early age, but it was after my matric year that I volunteered at a home in my neighbourhood for mental challenged children that I realised that working with people is a "calling" for me.  I proceeded to study my . BSoc Science degree in Psychology from the University of Pretoria.  After completing I ended up working in a different field, but as fate would have it my desire to make a difference in the lives of those around me never changed. I am currently busy with my honours degree, from the University of South Africa as well as being a student counsellor at Vita Nova.
A listening ear, and an empathetic heart can make the journey to self discovery so much easier. The skills I have been equipped with at Vita Nova and my life experience as a mother and wife, I believe will help in my chosen career.
How to book a session
Our Humanitas Counselling Students are ready and eager to connect, listen and talk with you. If you would like to book a free counselling session via Zoom – please have a look at the different people who are able to help.
To request a session with Simphiwe, click here.