KERRY GREGORY – HUMANITAS COUNSELLING STUDENT
Kerry volunteers her time by offering free online counselling.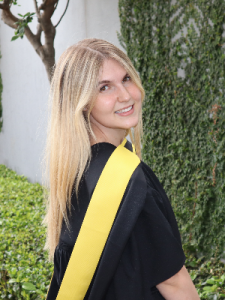 Hello, my name is Kerry, and I am a Humanitas Counselling student.
I completed my Bachelor of Arts in English and Psychology at the University of the Witwatersrand and my Bachelor of Social Science Honours in Psychology at The South African College of Applied Psychology.
During my studies, I worked as a tutor for a company in Johannesburg where I assisted primary and high school students as well as learners with various learning difficulties. Moreover, I have some experience working with children on the autism spectrum and I received training in Applied Behaviour Analysis. However, I am not providing ABA instruction currently.
At present, I am completing 220 hours of counselling experience under supervision of the Vita Nova Counselling Centre team. Please note that I am providing these services in English. I also volunteer for a psychology practice in Johannesburg by creating psychoeducational posts on social media.
While most of my experience has been with children and teenagers, I am happy to work with adults and I have received training from Humanitas to do so. Whatever reasons you have for seeking counselling, I commend you for reaching out and I hope to be a "fellow traveller" on your journey to greater wellbeing.
"The curious paradox is that when I accept myself just as I am, then I can change." – Carl Rogers
How to book a session
Our Humanitas Counselling Students are ready and eager to connect, listen and talk with you. If you would like to book a free counselling session via Zoom – please have a look at the different people who are able to help.
To request a session with Kerry, please fill in the form at the bottom of the free counselling page and select her name.