FREDERIK PRETORIUS – HUMANITAS COUNSELLING STUDENT
Frederik volunteers her time by offering free online counselling.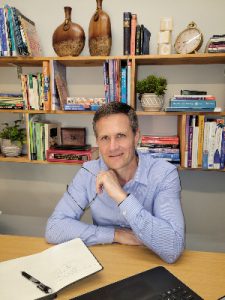 Hi,
I may be able to assist you with Trauma and Loss Counselling.
Our lives are constantly being shaped by traumatic events or the loss of someone special, be it through death or through circumstances beyond our control like a divorce.
With this, we experience an overwhelming anxiety and sometimes a grief so deep that cannot be explained.  It is as if we are avoiding the pain.  We move back and forth into acceptance of the fact, then back out to fight it again.  Life is sometimes just so terribly unfair.
It would be impossible for me to comprehend what you are going through.  However, those who have 'come out the other side' of a painful journey have realised that time is just a temporary thing.  Everything is temporary.  So, be gentle on yourself and remind yourself that today – even this moment of unbearable heaviness – will also pass.
So, whether you are in the process of making peace and preparing for death, or if you are feeling overpowered with anxiety, or even when you have gone through a terrible ordeal and are just trying to make sense of it all… contact us through the Vita Nova platform.  Let's talk.
With tender loving care,
Frederik Pretorius
How to book a session
Our Humanitas Counselling Students are ready and eager to connect, listen and talk with you. If you would like to book a free counselling session via Zoom – please have a look at the different people who are able to help.
To request a session with Frederik, please fill in the form at the bottom of the free counselling page and select her name.