BASANI SONO – HUMANITAS COUNSELLING STUDENT
Basani volunteers her time by offering free online counselling.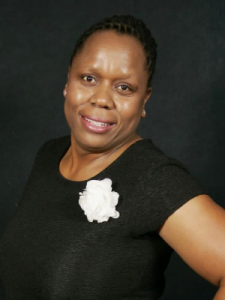 I am Basani Sono. I am a Humanitas student counsellor at Vita Nova Counselling Centre in Pretoria. My work experience spans over a period of 30 years, which 18 years I have served at the South African Police Service as a police officer. I was involved in trauma, loss, and grief crisis counselling. My passion involves helping people and making a difference in their lives. I specialize in trauma, loss, grief, and relationships counselling.
My qualifications include a BA Honours Degree in Psychology, BTech Degree in Policing, Advanced University Diploma in Education, Training and Development, and National Diploma in Police Administration. I am currently busy with my research report for master's degree in Positive Psychology.
"As far back as I can recall my prayer has been the same. "Use me, God. Show me how to take who I am, who I want to be and what I can do and use it for a purpose greater than myself".                         
                                                          -Oprah Winfrey
How to book a session
Our Humanitas Counselling Students are ready and eager to connect, listen and talk with you. If you would like to book a free counselling session via Zoom – please have a look at the different people who are able to help.
To request a session with Basani, please fill in the form at the bottom of the free counselling page and select her name.