ALIDA BOTHA – HUMANITAS COUNSELLING STUDENT
Alida volunteers her time by offering free online counselling via Zoom.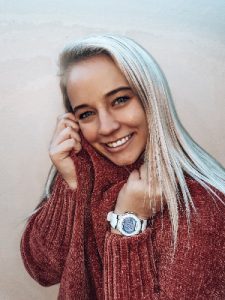 Qualifications:
(1)         Bachelor of Social Sciences Majoring in Psychology and Industrial Psychology (cum laude)
(2)          Bachelor of Social Sciences Honours in Psychology (cum laude)
I believe every person has their own unique reality composed of life experiences, personality, knowledge and emotions that shape their perspectives of the world. I offer a safe, non-judgemental space where you are able to deeply explore and process stressful life events and times of transition. A space where you are able to discover parts of yourself, seek meaning, recognise your personal power and honour your life story.
My approach is firmly rooted in deep compassion, unconditional positive regard and a genuine openheartedness. People only seriously consider change when they feel accepted for exactly who they are. At times we may feel stuck, overwhelmed or exhausted. We may know what is causing unease, but often we struggle to understand the cause. A therapy relationship at these times, can bring better understanding and help you think in new ways about yourself, your relationships and your journey forward. I look forward to offering you a therapeutic space that is warm, empathetic, and meaningful.
It's not so easy to ask for help. In many ways, it's an act of bravery. I invite you to make a booking with me. My services are available in English and Afrikaans.
Specialties: Adults; Adolescents / Teenagers (14 to 19); Preteens / Tweens (12 to 13).
How to book a session
Our Humanitas Counselling Students are ready and eager to connect, listen and talk with you. If you would like to book a free counselling session via Zoom – please have a look at the different people who are able to help.
To request a session with Alida, please fill in the form at the bottom of the free counselling page and select her name.