Building a business can be one of the most rewarding and creative experiences in life. It is also a journey that challenges you on many fronts requiring you to understand yourself, your approach and interactions with people around you.
To be a productive and fulfilled entrepreneur requires clarity of vision, an understanding of the habits that impact your business and personal life, and practical toolsets that are simple and effective to make an impact in the short- and long-term.

Vita Nova's Business Counselling is offered to entrepreneurs with established businesses, big or small, who are looking for support to reflect on their current journey and plan and prepare for what's to come.

Research shows that entrepreneurs grow the most when they make time to self-reflect, when they interact with other entrepreneurs and when they have small, tangible steps to achieving their goals.

No one business is the same, and we look to help entrepreneurs in building businesses that are true to who they are, reflecting their values, strengths and idiosyncrasies.
Vita Nova's Business Counselling services are facilitated by researcher and entrepreneur educator, Louis Janse van Rensburg
LOUIS JANSE VAN RENSBURG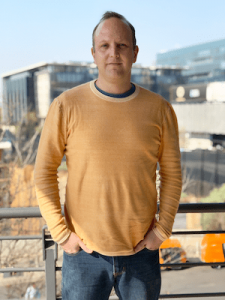 Where knowledge is shared, wonder deepens. This philosophy underpins Louis work as an entrepreneur educator and business counsellor. Louis is the CEO of education investment fund, Glengarry Capital, Chairman of entrepreneur learning not for profit, The Heavy Chef Foundation and a Phd researcher on the future of learning. Creative, optimistic and pragmatic, Louis weaves storytelling with empirical data to challenge individuals and teams to become productive and fulfilled entrepreneurs.
Originally, I studied Sport Psychology at University, completing my honours degree with a focus on high-performance mental coaching.
During that time I did my fair share of personal development work with young athletes in swimming, golf & cricket. Ever seen an 11-year-old golf prodigy deal with the pressure of his dad's presence on the course?
In my masters degree in Entrepreneur Philosophy I did papers on topics such as Action Learning and Entrepreneur Role Models. In fact, as it stands I'm exploring a Phd research study into the future of learning.
I joined and later became a partner in one of SA's most reputable innovation agencies, World Wide Creative, where we launched our own internal education projects, built countless technologies and facilitated an innumerable amount of workshops and training programmes to foster internal innovation.
Most recently I spearheaded the launch of South Africa's largest study ever conducted on the learning habits of entrepreneurs.
It is my personal belief that to Teach & Share brings people closer together and through these interactions, Wonder is found.
A philosophy that underpins my current role as CEO at Glengarry Capital, a leading source of capital for those reimagining the way humans learn, as well as in my philanthropic activities as Chairman of entrepreneur education initiative, the Heavy Chef Foundation.
As a Business Counsellor, my approach is rooted in helping entrepreneurs understand themselves and equip them with the tools to build their businesses, lead teams and manage the success and stress of life as an entrepreneur.
In my personal life, I am a husband, a father, an amateur screenplay writer, pizza lover and known to hit a mean 4-iron.